Drench hoses
Hand-held drench hoses are supplemental devices that are designed to support emergency showers and eyewashes, but cannot be used instead. They consist of a flexible hose connected to a flushing fluid supply and used to provide fluid to irrigate and flush face and body areas. Drench hoses are useful in cases where the user is in the prone position or to reach areas of the face and body inaccessible to the fixed stream of a deluge shower or eye wash unit. They should provide a flow rate of at least 3 gpm for 15 minutes.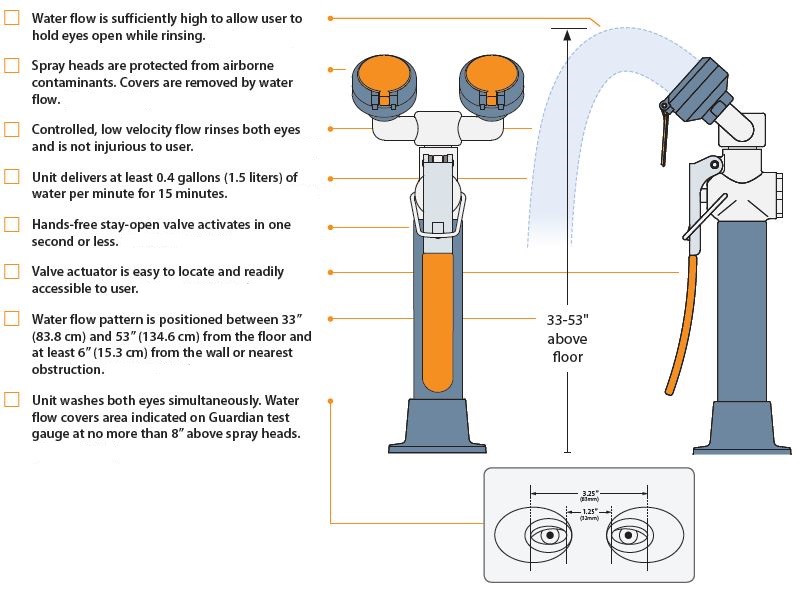 Location: Install drench hose within 10 seconds (approximately 55 feet) of hazard, on the same level as hazard and with unobstructed travel path. Where strong acids or caustics are being handled, emergency drench hose should be located adjacent to the hazard, and an appropriate professional should be consulted for advice on the proper distance.
Identification: Identify drench hose location with highly visible sign. Area around drench hose shall be well-lit.
Water Temperature: Water delivered by drench hose shall be tepid (60-100°F).
Training: Instruct all employees in the location and proper use of emergency drench hose.
Maintenance/Inspection: Activate plumbed drench hose at least weekly. Inspect all emergency eye drench hose annually for compliance with standard.
Latest News
Contact Us
Name: Lewis Meng
Tel: +86-18005110826
E-mail: [email protected]
Skype: menghuiyuan1991
WeChat: huiyuan1991
Whatsapp: +86-18005110826
Add: Rom.404,Buliding 10,Chengbei Apartment Dongtai City Jiangsu China